Our sliding patio doors have superior strength and style for your home
Sliding patio doors in Bristol and Bath
Our UPVC sliding patio doors provide exceptional quality with virtual maintenance free and never need painting.
Most doors swing inward, which require clearance. In cramped spaces, this can make it difficult to properly position furniture. Sliding patio doors slide left and right without cutting into any space, making it much easier to position things around them making them perfect for smaller rooms.
A+ Energy rating 
PAS24 Certified
Multi-point locking system
Secured By Design accredited
6 hardened high security pins for the ultimate anti-pick, drill and bump resistance
Low Threshold (for easy access)
Outstanding weather performance
26 colours
Up to
20 year
guarantee on product and installation
Glass that is best in class
uPVC sliding patio doors are made to fit and installed professionally to ensure the product seamlessly integrates with your home. Our patio doors are rated A+ for energy efficiency as standard. Thermal break glass filled with argon and treated surface (soft-coat) ensures the highest thermal rating and noise reduction possible for a warmer and quieter home.
Security and durability
The multi-point locking system comes as standard, the Yale 3 Star (highest rated) locking cylinder is Anti-Bump, Anti-Pick, Anti- Drill, Anti-Snap, Anti-Extraction. All our door come with a 10 year security pledge which means we will replace any damaged door which has been forced open via the multi-point locking system as a result of a break in. Robust locks, quality hardware and high-grade materials are manufactured together seamlessly to give you a secure sliding patio door.
10 year guarantee on products and installations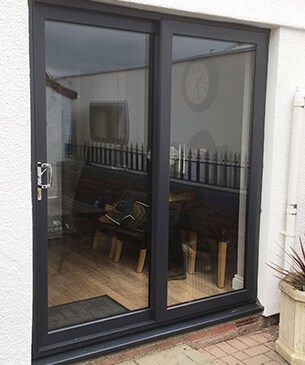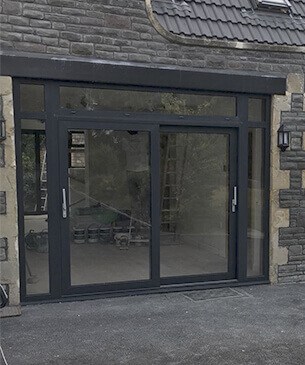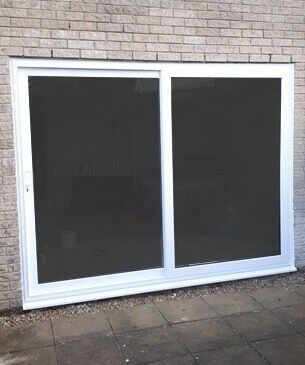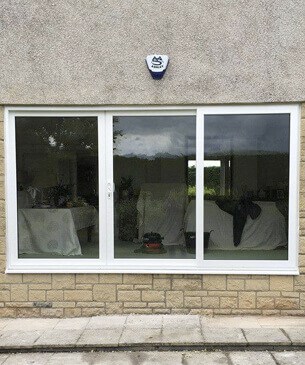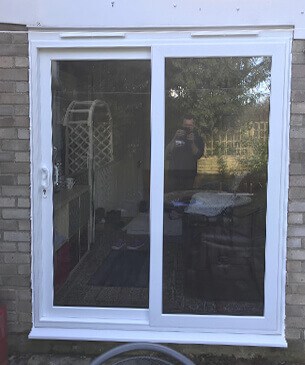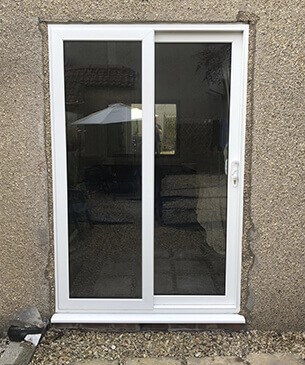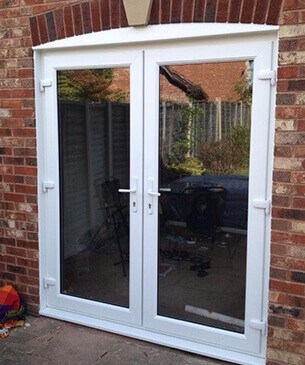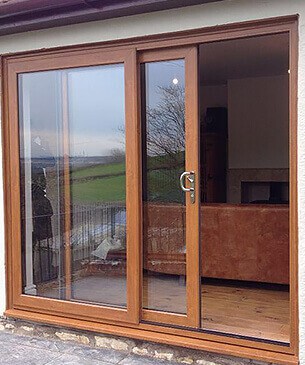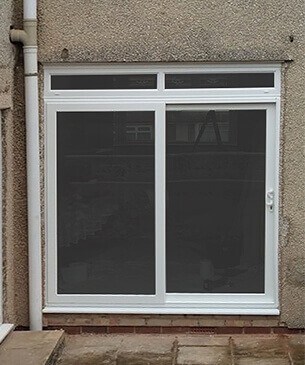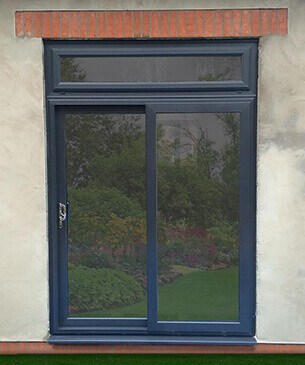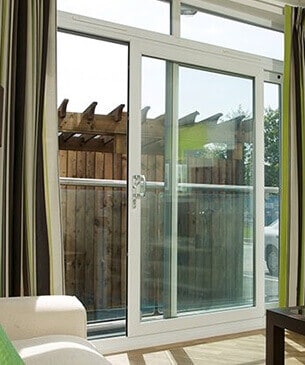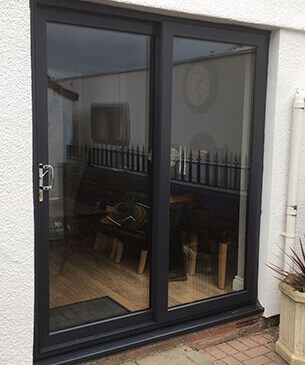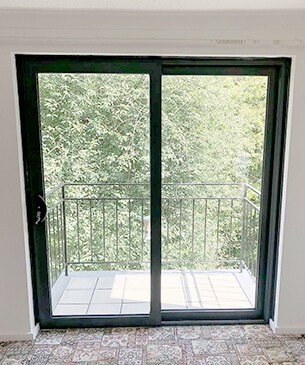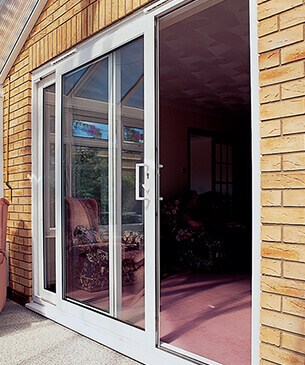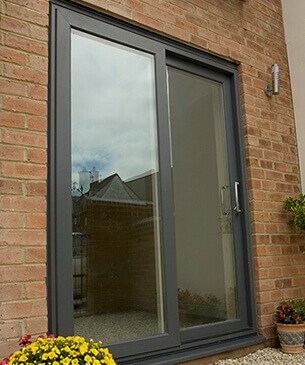 Our market leading colour from stock means homeowners can choose from 26 colourways for their new windows and sliding patio door, including matching ancillaries, trims and accessories, and have it all delivered on the same short lead time as white.
Whether it provides that special view onto your garden or patio or gives a feature entrance to your conservatory, safety and security features such as integral multi-locking points adhere to the highest industry standards.
Our double glazed with multi-chambered frame patio doors have an excellent energy efficiency rating.
The cost of patio doors is based on size. The starting price is £800 for a patio door (installed). Enquire today for a free quote
We have a wide range of options to personalise your patio doors. Frame colour, door furniture finish, toplight, side panels and more. Enquire to for more information.
With a multi-point locking system and Ultion 3 star cylinder, our patio doors stay locked when closed.
We can expand a window opening to fit a patio door or expand the current door opening to fit a wider patio door.
Why choose us?
Great quality products, fitted perfectly with excellent customer services – award winning formula today and tomorrow
Make take a few seconds to load. You will receive your no-obligation free quote via email.
Free quote with no-obligation home appointment
Free no-obligation home appointment allows us to take exact measurements to provide you with an accurate quote and answer any questions you might have.
Unlike some companies, we don't use pressured sales techniques or expect you to sign anything during our visit. We always provide honest recommendations
and industry insight to ensure you get the best products for your home.
Free quote with no-obligation home appointment
Free no-obligation home appointment allows us to take exact measurements to provide you with an accurate quote and answer any questions you might have.
Unlike some companies, we don't use pressured sales techniques or expect you to sign anything during our visit. We always provide honest recommendations
and industry insight to ensure you get the best products for your home.
Voted the best in Bristol
for customer satisfaction
We achieved this by provising an award-winning service, quality assured products and money saving deals to all our customers.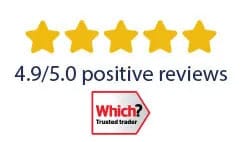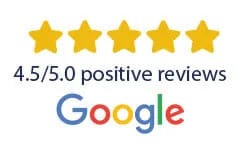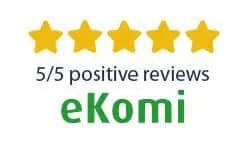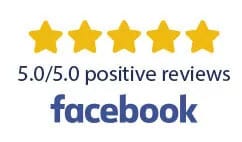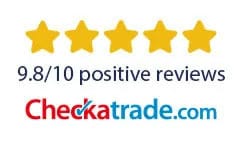 +
Frequently Asked Questions
Is it easy to install a sliding door?
Some people might find it hard to install a sliding door. But if you have experience and the necessary materials, installing one is not too difficult.
Can you turn a regular door into a sliding door?
Doors are great for opening up your space and letting in light, but they can also be quite boring. Here's how to turn a regular door into one that slides like the ones at an old farmhouse with these easy steps! You'll need a set of sliding door hardware as well as a large enough interior door to cover your entire opening. First attach the track using spacers so it doesn't move around when you slide open or closed, then screw on stoppers where there is no wall surface (you don't want anything getting caught). Hang your new-and-improved—door and voila: Your room has just become more romantic than ever before thanks to those gorgeous barn doors!
How much does it cost to install a sliding door?
Installing a sliding door is always an expensive undertaking. The cost ranges from £200 to as much as £1200 for labor and materials combined. Those who have pre-hung units will pay the lower end of that range while those without may spend up to five thousand dollars on installation alone!
Can you replace sliding glass doors without replacing the frame?
Most people think that it is not possible to do this, but in reality, most cases just require a new door and adjusting them. A lot of times when installing these replacement panels they can be adjusted internally with built-in adjusters or externally by leveling up using shims. You'll need to verify alignment on both side's latch hardware after installation so make sure your measurements are accurate!
What's the best way to make sliding doors slide easier?
Buy a lubricant that is silicone-based. Spray it over the entire track.
How do you put a sliding door back on track?
It's easy! First, pull the two wheels out of their bottom and into their top. Now place your feet at either side of the door to hold it in place while pulling up until they click onto their tracks. You might need some help from someone else if this doesn't work by yourself.
Why do sliding doors get stuck?
The problem is often dirty, dried-up rollers and the solution is to clean them out. If this doesn't work then you may need new or repaired rollers.
Why are my sliding doors so hard to open and close?
There's a lot that can go wrong with even the simplest of things. The heat, humidity, dirt, moisture, or just wear-and-tear may cause your doors problems!
How do you temporarily remove a sliding glass door?
With a flat-head screwdriver, remove the rollers off of your screen door. Remove it from its spot and move it to an area where you won't be working on it for safety measures. The stationary glass in sliding doors is usually attached with screws so unscrew them before lifting up any other components or loosening anything that might harm the product as well as yourself.
How do you clean sliding door tracks?
To make your sliding door more aesthetically pleasing, you'll want to start by cleaning the tracks. You can do this with a solution of white vinegar and water. Mixing equal parts in a clean spray bottle will yield enough for spraying along all four corners or halfway down the track on both sides - whichever is easiest for you! Clean it up using dry cloths before proceeding to wipe off any remaining moisture that may have been left behind from other soaps/cleaners used beforehand!
Can you make any door a sliding door?
One way to create a sliding door is by installing it on wheels or casters. All you need are the right hardware items and an old door that needs some new life!
Can you use a normal door as a barn door?
You can easily turn any door into a barn door with special tracks and hangers. This hardware is now easy to find in different styles.
Can you replace a sliding door track?
Can you replace a sliding door track? Well, if the bottom track on your glass patio is rusted or warped and needs to be replaced then cutting off each end of it at its installation point may not suffice. To get that perfect fit with no gaps between the frame and front panel, there are tools called "track saws" which allow for this cut in one fell swoop instead!
How do you take a sliding patio door off its track?
Use a flathead screwdriver to remove the adjustment screw covers that can be found on the side edge or bottom of the glass sliding door. Then turn the screws in a counter-clockwise position to pull up the rollers into the door. This will allow the door to be lowered in the track so you can then tilt it out and remove it.
How do you adjust a sliding mirror closet door?
Adjusting a sliding mirror closet door is an easy task with just a screwdriver. Most doors have mechanisms at the bottom or top of their frames called wheelhouses which can be adjusted to make sure your roller comes in contact with the track, and you'll regain control over opening your mirrored door.
How do you adjust a patio door that has dropped?
Make use of the Allen key on the screw found at the door side of the hinge.
Adjust it while the door is closed.
Turn it one to two times clockwise and see if it still drags.
Work on the hinges until it opens and closes smoothly.
Can patio doors be adjusted?
Patio doors that are poorly adjusted can impact the protection and insulation of a house. There is no need to hire a professional to be able to adjust one's patio door. To do this, you just need a manual and some tools.
Why is my uPVC door not closing properly?
The springs of your hinges may be loose. Damp or humid conditions may make the frame swell and shrink, making it difficult for a door to close.
How much do patio doors cost in the UK?
In the UK, sliding and French patio doors cost between about £1000 and £1500, but high-end bifold doors prices are up to £10,000.
Which is the best option for your home?
A patio door or French doors could be a little more expensive, but might also have better security. If you're shopping on an affordable budget then sliding patio doors are going to work out around 10-20% cheaper at sizes bigger than 1800mm - as locking mechanisms and hardware generally come with manufacturing methods that make them slightly less costly than French doors.
How much does it cost to install a patio door?
It's normally a few £200-500 to install by an installation company
How do I protect my sliding glass door from burglars?
There are many easy steps you can take that would deter potential burglars.
Install 3-star cylinder locks.
Have well-maintained doors.
Make sure the door has no cracks or faults etc
Install door alarms
How do you reinforce sliding glass doors?
Put an alarm sensor.
Put a window film.
Place a rod in the tracks.
Buy a deadbolt lock.
Have a security camera installed.
How do you secure a sliding glass door from the outside?
The Ideal Patio Door Security Bar with Anti-Lift Lock is a very easy way to keep your sliding doors secure. Simply install at the bottom or top of the door, and it will prevent anyone from opening them if they are in an open position.
How can I make my patio door slide easier?
The patio door track can be made easier to slide by lubricating the tracks with Teflon-based lubes. You can check with manufacturing recommended guidelines for further information.
How do you fix a misaligned sliding door?
To be able to align your door correctly, all you have to do is to remove it, clean it and reinsert it. If there is a hardware bent or damaged, call a door repair specialist.
Why is my sliding glass door so hard to open?
With the heat and humidity of summer, it can make it hard to maintain one's sliding glass doors in good condition. Other things that can make it hard to open are dirt, moisture, and normal wear and tear.
What can I use to keep my patio door open?
A magnetic door stop is a fantastic way to keep doors in place. Mounted either on the floor or wall, this simple solution requires only one step for use. It's appropriate for standard-size patio doors which makes installation and removal fast and easy!
How do you keep a sliding glass door from being lifted?
One way to keep a sliding glass door from being lifted is by inserting a metal screw or washer into the top of the frame. The screws act as stoppers and prevent them from being elevated past that height, making it impossible for someone to lift them out.
How do you lock a patio door?
Cover your doors.
Put a door lock on the sliding glass.
Place a security bar on the sliding glass door.
If you have French doors, install a security door brace.
Check out electronic lock options.
How do you adjust a uPVC door flag hinge?
The uPVC door flag hinge is adjustable. The original position can be marked and the adjustment piece adjusted by turning with an Allen key. It may need to go back a bit in order for it not to protrude from under the nailhead trim on either side of your doorway, but don't worry because there are lateral adjustments that will allow you to move it so that's no problem at all!
How do you fix it when your door is out of alignment?
You could tighten the screws, replace them with new ones, or drive a screw or two into the side. If that doesn't work, there are other fixes available: move the strike plate incrementally and then try moving it further if needed to get a good fit for your jamb. Alternatively, you can insert even further by adding one more hole in between each existing one on both sides so they line up perfectly with the edge of your frame!
What is the difference between French doors and patio doors?
The main difference between these two types of doors is how they open. Patio doors slide along a track to the side, whereas French doors swing outwards on hinges in order to be more aesthetically pleasing. When it comes to appearance, the patio doors look more modern than French doors.
How do patio doors work?
Sliding patio doors usually have options to have two, three, or four panels. Some of the panels will be fixed and some will slide. If they slide, the doors will slide on its tracks. If its operation lifts and slide, then one needs to turn the handle 180 degrees to be able to lift the door and slide it effortlessly. As the doors open by sliding – furniture can be placed closer to the door, compared to French doors where you need to leave more space for the doors to swing open.
What are patio doors?
Patios are a great way to enjoy the outdoors, but traditional doors don't cut it. Patio sliding doors let you seamlessly transition from your interior space into your backyard with ease and without sacrificing any of the indoor comforts that make living enjoyable in the winter months.