Noise Reducing Acoustic Windows
Fit Acoustic Glass to Reduce Outside Noise
Noise Reducing Acoustic Windows discussed by Polar Bear Windows & Doors
Our everyday world and lives are getting busier and more and more people are having to live within close proximity of each other, closer to busy roads, motorways, industrial estates, train lines, airports and the list goes on. Noise pollution when you're in your home or at work is distracting and can become a real issue even if it is just background noise and more and more people are choosing to replace their single or double glazing with Acoustic Noise Reduction Windows.
At home, you want to be able to shut your door and switch off after a long day at work, or you may be at home during the day and are being disturbed by the noise from outside. At work, it can be a distraction for colleagues and can even create stress in certain environments, therefore, noise reducing acoustic windows are an ideal solution in these situations.
What is Acoustic Glass?
Acoustic glass is specialist glass that will considerably reduce noise levels inside a property.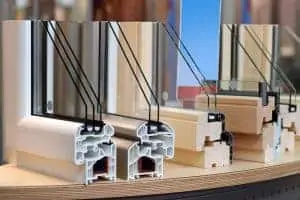 The window is made up of two or more PVB (Polyvinyl Butyral) laminated panes of glass and they are bonded together using clear PVB (Polyvinyl Butyral) which has acoustic and noise absorbing capabilities as the interlayer. The result is an appearance of a single pane of glass which significantly reduces noise from the outside getting inside.
What is PVB (Polyvinyl Butyral)?
PVB (Polyvinyl Butyral) is a resin used for applications that need strong binding capabilities, require optical clarity & light transmission, adhesion to varying surfaces, toughness and flexibility. It is prepared from polyvinyl alcohol by reaction with butyraldehyde. It's most frequently used application is for laminated safety glass for glazing and vehicle windscreens and acoustic windows. The PVB offers excellent acoustic performance by dampening sound waves without reducing or compromising the clarity and light transmittance of a window. As well as this, it doesn't have any detrimental effect to its thermal and safety performance and in fact it improves this.
What are Acoustic Windows?
Acoustic windows are made from two or more pieces of laminated glass which are secured together with a PVB (Polyvinyl Butyral). Each pane is also laminated with PVB to further reduce noise penetration. The PVB interlayer forms a strong hydrocarbon bond within the window which acts as a noise-dampening core, weakening the sound as it travels through the glass.
The thicker the panes of glass, the better the sound insulation can be achieved. Acoustic laminated glass also benefits from all the safety and security properties of standard laminated glass. The main benefit of PVB laminated glasses is its performance under impact. When a heavy item or force is put against PVB laminated glass it can fracture, however, any broken fragments remain firmly bonded to the PVB interlayer preventing shards of dangerous glass or the glass shattering, thus, preventing break-ins. The PVB interlayer absorbs impact energy, reducing the risk of breaking through the pane which acts as a deterrent to burglars as well as remaining in place until the glass is replaced, keeping your home or business warm and secure.
How does Acoustic Glass work?
Acoustic glass works by the PVB laminate and interlayer reflecting noise back towards the source as well as absorbing the noise energy within the glass.
Increasing the thickness of the panes improves the sound insulation of the window as well as improving its insulation properties.
In summary, acoustic glass works by deflecting and dissipating the sound waves that hit the glass and there are 3 main factors that contribute to the noise reduction value.
• Thickness of the glass panes
• Interlayer
• Spacing in-between the glass panes
Pane Thickness
You will achieve greater noise reduction values the thicker the glass panes used.
Interlayer
A thin layer of PVB (Polyvinyl Butyral) is laminated between the panes of glass which dampen the sound waves as well as increasing the safety of the glass. without compromising on the clarity and light that enters or with any impact to its thermal performance.
Spacing
Noise reduction is significantly increased when the gap between the panes is increased. Space is a premium now in most homes and businesses, therefore, noise penetrating can also be increased by filling the gap between the panes with heavy inert gases (such as argon and krypton), however, this does increase the cost of a window.
What is the difference between single or double glazed windows compared to Acoustic Glass?
Glass is a rigid and solid material which means it is a poor conductor and doesn't absorb sound which results in noise from the outside entering your home or business. Glass is good at reflecting noise, however, again this increases noise levels from outside getting in. A single glazed window will allow much more noise to enter compared to a double glazed window, however, a double glazed window will reflect and won't absorb noise entering from outside as an acoustic window does.
What are the benefits of Acoustic Windows?
• Reduces outside noise from entering your home or business and reduces sound transmittance significantly
• Reduces ultra-violet radiation (between 320 and 380 nanometres) by up to 99%
• If used in roof glazing or skylights it provides noise reduction from rain and improved insulation
• It can be used for office partitions and meeting rooms to reduce any sound impacts
• Acoustic glass performs extremely well under impact so it increases the safety of your property
• Unlike a normal pane of glass, acoustic windows don't shatter and any broken fragments remain bonded to the PVB interlayer after impact, preventing shards of dangerous glass
• Breaking in via acoustic glass is very difficult if possible at all. The PVB interlayer absorbs any forced impact and any broken fragments stay bonded to the interlayer, preventing unauthorised entry, as well as acting as a deterrent to burglars. The bonded fragments also keep your property secure whilst the glass is replaced
• Depending on the arrangement, number and thickness of glass panes and interlayers in acoustic glass it can be manufactured to offer protection against firearms and explosions
• Acoustic glass has increased thermal values which will reduce heat loss from a property as well as decrease energy bills
• In summary, in addition to noise reduction, the acoustic glass will dramatically increase the strength of a window offering you additional security, safety as well as improved energy efficiency. The reduced noise in your home or property will have positive benefits on your wellbeing and many people feedback that they have improved sleep, are more relaxed and they have more energy
What are the disadvantages of Acoustic Windows?
The only disadvantage to acoustic windows is the price as they will cost slightly more than double glazing, however, if you have noise entering your home then they are an excellent investment for your well-being, comfort and for the value of your property. You will have happier family members if you install acoustic windows in your property.
How do Acoustic Windows reduce noise?
Acoustic windows reduce noise entering a property due to the two panes of glass that are laminated with PVB and the PVB interlayer. PVB offers excellent acoustic performance as it dampens and absorbs sound waves without reducing or compromising on the clarity and light transmittance of a window. It also offers additional thermal, safety and security benefits.
Why would you have Acoustic Windows?
Any property that is in close proximity to a noisy road, a motorway, noisy neighbours, an industrial estate, a train line or an airport will always benefit from acoustic windows. If you have ever lived in a house where the outside noise pollution is evident you will understand how disruptive, distracting and, or stressful it can be.
Working in an environment where the outside noise enters inside has the same effect, as well as often impacting the ability and efficiency of team members.
Replacing your existing windows and doors with acoustic windows will have a dramatic effect on how you live, work and feel with the reduction of noise as well as their additional safety and security features.
Where would you have Acoustic glazing?
Acoustic glazing can be used in windows, doors, patio doors, bi-folding doors, roof windows, conservatories and internal screens or room partitions in homes and businesses and they are highly effective. When used in skylights or roof glazing it reduces the sound from heavy rain and it is also highly effective for interior sound insulation needs, such as office partitions and meeting rooms.
Does acoustic double glazing work?
Acoustic windows are highly effective in reducing the amount of sound that enters a property from outside as the PVB laminate and interlayer absorbs much of the noise and vibrations, allowing less sound to enter. Tests have shown that acoustic glazing can reduce sound penetration by up to 40dB (and even more if required), to put this into context it would reduce loud traffic noise from 80dB to a quiet 40dB noise which is a 50% reduction.
Is triple glazing more soundproof than Acoustic windows?
Triple glazing can improve noise penetration more than double or single glazing due to its extra pane, however, the glass panes are still a rigid and solid material which make them a poor conductor and not able to absorb outside noise, compared to acoustic glass which does these things.
Some test evidence has shown that the introduction of a third layer of glass can in some instances increase the sound penetration as the third pane acts an additional material which can vibrate and transmit sound in.
Are there other ways to soundproof my home or business?
• Thick curtains can minimally reduce the amount of sound that enters through a window, however, this doesn't help in the daytime
• Insulating walls can offer some level of sound absorption as it increases the mass of the wall, helping to dampen the noise travelling through it and in
• Secure pictures and photos to walls securely as sound entering a property can create vibrations
• Install door draught excluders as these can also help to minimise sound entering
• Use acoustic wedges panels
• Install thicker carpets
How to soundproof your windows?
Cracked and leaking window seals will allow outside noise to enter your property and by using a specific acoustic sealant it can help to reduce it. Acoustical sealants are more flexible, less likely to crack and will last longer.
Adding an additional pane to your windows will help to reduce some of the noise entering your property. It is a tricky process and probably not one to try to do yourself if you don't have the experience. A metal frame needs to be installed onto your window and magnets are used to attach the additional pane of glass.
Plastic window films are used a lot in commercial settings to reduce the vibration of the glass panes in a window which can help to reduce the noise entering. It is relatively easy to do, however, it doesn't look great so you probably wouldn't want to do it in your home.
Thermal curtains are a simple noise reduction solution however, it will only reduce noise when they are closed so unless you want your curtains closed during the day they won't help. They also block cold air between the window and the thick thermal curtain which can result in more condensation and end in mould appearing and damage to the window.
All, or some of these may help in a small way, however, they won't reduce the amount of outside sound entering your property as much as acoustic windows will. Acoustic windows can in some cases reduce sound penetration by up to 50.
What style of Windows can be made with Acoustic Glass?
Acoustic glazing can be used in most window styles and finishes, including Georgian bars, leaded windows and coloured glass designs.
Considerations when thinking about Acoustic Windows
• Always use a professional and reputable glazing company
• Ask for recommendations from family members, friends or other businesses
• Ask them what the noise reduction values are in their acoustic window options
• Find out what their acoustic window energy ratings are, you should be looking for A+
• Find out what their acoustic window safety marks and standards are
• Ask them what type and style of windows they offer in their acoustic range
• Ask them if they offer a 0% finance option
• Invite 3 companies around to quote and don't be afraid to go back to the other companies if you get a cheaper one as they will often match prices
• Check your quote includes installation
• Check the guarantees that are included with your windows
What should you look for in a Window Company?
• A good, professional-looking website that gives you the opportunity to design your new windows and browse through the types of windows and colours they have available
• Excellent customer reviews on their website
• Excellent customer reviews when using an internet search
• Free and no obligation home appointments to discuss your requirements and their products
• Free design service
• A company that can confidently talk about their product ranges and the benefits and disadvantages of each one
• Their windows will be 'A' rated for energy efficiency
• They will offer you a free no-obligation quote
• They will offer you free fitting options for your new windows
• Their installation will be carried out by fully trained specialists who will install your new windows quickly and efficiently with minimal mess
• They will provide you with keys for your new windows and be able to provide with more if you need them
• Their windows will be guaranteed for a minimum of 10-years
• They will offer you a 10-year security pledge and this means they will replace a damaged door or window if it has been forced open and damaged by an intruder
• Their windows will be security tested (PAS24-2012), endurance tested (Grade 5) and Corrosion resistant (Class 5)
• They will explain how to maintain your new windows to prevent any issues, giving you peace of mind that your home or business is secure 24 hours a day 365 days a year
About Polar Bear Windows
We have over 30-years' experience in the window industry and have been voted the best for customer satisfaction in Bristol, based on our customer's reviews.
We provide an award-winning service, quality assured products and money-saving offers to all of our customers.
Our company ethos is to improve our customers' comfort and living standards by delivering quality products alongside amazing customer service from the start to the end of your journey with us.
Each one of our team is committed to our customer-focused delivery and is proud of our exceptional and high-quality products.
We will arrange for one of our expert designers to come out to your home or business and give you design advice along with a free, no-obligation quote.
We offer a wide range of acoustic windows, double glazed windows, doors, conservatories and conservatory roofs to suit both your style and budget and will work with you to design your perfect addition to your property.
We offer a free fitting service for many of our installations.
We specialise in acoustic windows, casement windows, sash windows, double glazed and triple glazed windows (uPVC and aluminium), bi-fold doors, composite doors, conservatories and conservatory roofs and we use industry-leading products to bring you nothing but the best.
We offer free no-obligation quotes and we will beat any like for like quote to ensure you get the best deal.
We offer a 0% finance option with a small deposit payable for some installations.
About Polar Bear Windows Acoustic Windows
• Our range of noise-reducing, energy-efficient, safe and secure acoustic windows will suit your home, business, style and budget
• Our acoustic windows are A-rated for energy efficiency as standard
• Thermal break glass filled with argon and treated surface (soft-coat) ensures the highest thermal rating and noise reduction possible resulting in A+ energy rating efficiency
• 9 multi-point locking system for maximum security and peace of mind
• Smooth day-to-day operation, with engaging deadbolts and locks for added security
• Weather-resistant seals to keep out draughts with optional trickle ventilation available
• Multi-chamber profiles without steel reinforcements to improve insulation
• Exceeds PAS24 security tests and all other British quality standards
• Safety friction hinges, child-safe hinges, fire escape hinges, easy clean hinges.
• Handles are endurance tested for absolute and outstanding security
• High corrosion-resistant, even in the most extreme conditions
• 10-year guarantee on our products and installation
• 10-year security pledge
• All our windows are made to measure and installed professionally by our trained installers to ensure your windows seamlessly integrate with your home
If you are fed up with the noise entering your home or business then we can help with our quality Acoustic Windows. Contact us today on 0117 327 0127 and one of our experts will be able to answer any questions you may have or can arrange your free, no-obligation home or business visit.