Door Furniture discussed by Polar Bear Windows & Doors
At Polar Bear, we offer a huge range of stylish and secure front and back doors that will transform the look and feel of your home or business. We have hundreds of doors and windows to choose from and one to suit everyone's style and budget.
Whatever the style or period of your property; contemporary, traditional, city, country, farmhouse, flat, apartment, we will have a door for you. Our doors are bespoke and made to your specific measurements and design, we have an extensive range of styles to suit your property and budget and we offer a quality installation service by our fully trained experts.
Polar Bear Composite Door Hardware
Door furniture, also referred to as door hardware are the items that are attached to a door or window to enhance its functionality and, or appearance and can include; door handles, doorknobs, letterboxes, knockers, hinges, spy holes and house numbers or names for both inside and outside of your door or window. At Polar Bear, you can choose your door and window furniture to complement the style of your home and décor to really make your windows and doors individual and make them stand out.
We offer a huge range and choice of door and window furniture and one of our experts will help you decide which is the best option for you and your home.
You can personalise your front door with our high quality and durable furniture hardware in contemporary or traditional styles including:
Internal and external door handles
 Door Handles
 Pull Handles
 Door Knobs
 Letter Boxes
 Knockers
 Hinges
 Spy Holes
 House Numbers
 House Names
 Rain Deflectors
They come in a range of colours and styles to suit you, including, polished chrome, polished gold, brushed silver, black, white and many more.
We are so confident in the quality of our hardware range it is included in our extensive 10-year guarantee giving you peace of mind it will stay looking fresh and new for years to come.
What are the Benefits of our Door & Window Furniture?
Polar Bear Door and Window Furniture are easy to look after and maintain. Our door handles, doorknobs, letterboxes, knockers, spy holes, house numbers and names just need a wipe over with a damp cloth occasional and then buffed dry with a soft dry lint-free cloth to keep them looking shiny and new.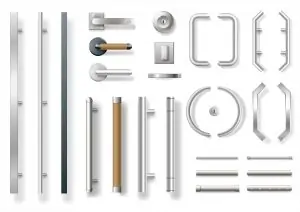 Our hinges simply need a wipe over with a mild detergent every couple of months. Use a lubricating oil that has a nozzle and spray the oil on the working parts every year which will keep the parts moving and working together as they should do. This doesn't need to be done often but if you do it your hinges will last the test of time.
We have a huge range of door and window furniture styles, materials and colours and our window and door experts will help you choose your design. Our door furniture styles and colours include:
 Chrome
 Silver
 Gold
 White
 Black
Handle Styles:
 Long T Bar Pull
 Short T Bar Pull
 Finger Pull
Letter Box Colours:
 Chrome
 Gold
 Black
Knocker Colours:
 Chrome
 Gold
 Black
 White
Rain Deflector Colours:
 Chrome
 Gold
 Black
 White
 Red
 Blue
 Green
 Rosewood
 Duck Egg
 and many more vibrant colours
Chrome and Steel are our most popular choice of door and window furniture and the most durable when it comes to the outside elements.
Every door and window type has a different range of furniture hardware available so when you've decided on your product we can let you know which furniture options are available and help you with your choice.
Our door and window price doesn't change depending on its furniture finish.
Our composite doors come in MarineSpec anti-corrosion hardware making them durable and strong.
They have high-performance door hinges with multiple adjustment mechanisms which aids installation or if adjustments are ever needed.
We offer a 10-year guarantee on all our mechanical operations and any manufacturing defects.
What are the different types of door handles?
There are 3 main types of door handles:
 Lever/Lever – two handles with moveable inline handles
 Lever/Pad – 1 lever hand and 1 fixed or moveable pad. This type is available inline or offset
 Handles with Snib – the snib is activated to hold the latch back on a lock
Decorative Glass
You can make your composite door completely unique to you and property by adding side panels and top lights, as well as using decorative and coloured glass panels.
Our glass panels are triple glazed and 4mm toughened laminated glass for added security.
You can choose from;
 Textured backing glass pieces
 Polished zinc/brass cams
 Bevelled glass pieces
Obscure glass offers you privacy whilst still letting the natural light through your front door.
We offer five different levels of privacy glass and these are graded from 1 (most transparent) to 5 (most distorted).
All our obscure glass is manufactured to the highest quality to ensure it doesn't compromise the thermal efficiency of your door, keeping the cold out and the warmth in.
Rock Solid Composite Door Security
Our durable, efficient and stylish front doors offer multiple high-level security features to make you feel secure in your home or business. They are strong, durable and secure and manufactured to your design and measurements.
Every door we supply and fit comes with a multi-locking system which is endorsed by the Master Locksmiths Association and validated by all leading UK home insurance companies.
Our composite door multi-point locking system includes; Anti-Bump, Anti-Pick, Anti- Drill, Anti-Snap and Anti-Extraction system comes as standard on every door.
They come with industry-leading Ultion 3 Star Cylinders which is 'Secure by Design' and the Police preferred specification.
Our composite doors are approved by the police and tested by the Master Locksmith Association and have their highest standard security accreditation.
Our composite doors are wrapped in a GRP (glass reinforced plastic) skin for security.
You can choose aluminium wrapped composite doors for additional security.
Our composite doors are made from high-impact uPVC casing with steel reinforced frames.
Our composite doors are internally glazed which offers additional security.
Composite Door Energy & Sound Efficiency
Our composite doors have a high-density foam core which offers improved soundproofing and insulation compared to timber doors
They have an effective all-year-round weather seal, as well as water-resistant polymer composite rails to prevent water absorption which can lead to a doors skin de-lamination resulting in functional and operational problems.
Our composite doors are 'A+ rated' thermally efficient, offering extreme heat retention. They are 17%+ energy efficient compared to other composite doors available.
They offer excellent sound reduction and a weighted noise reduction of 31 decibels, making your home feel calm, quiet and tranquil, away from the noises from outside.
Additional Composite Door Benefits
 Our composite doors come in MarineSpec anti-corrosion hardware making them durable and strong.
 They have high-performance door hinges with multiple adjustment mechanisms which aids installation or if adjustments are ever needed.
 Their high-performance Q-Lon weather-seals ensure your door lasts and stays looking new and pristine all year round, and for years to come.
 They are virtually maintenance-free and easy to wipe clean with warm soapy water.
 We have a huge range of contemporary and traditional styles, colours and finishes for you to choose from resulting in a stunning entrance to your property. Our oak wood grain finish and moulding design gives a beautiful and seamless style and finish.
 We offer 0% Finance Options dependent on your order
Our Guarantees
We are so confident with the quality of our doors and our installation practices all of our doors come with a comprehensive 10-year guarantee the door and 20 years guarantee on the installation.
Each door also comes with a Polar Bear Security Pledge and this means if there is any forced entry into your home or business via your doors multi-point locking system and your door is damaged, we offer a complete replacement and free installation.
Why Choose Polar Bear Windows
We have over 30 years in the window and door industry and we offer our customers a quality, seamless and excellent service from start to finish.
We offer honest and transparent pricing with no pressured selling techniques to rush you into buying with us. Our pricing structure is competitive and transparent and we are able to give you the best money-saving deals around with the highest quality products.
Our award-winning service has led us to be voted the best Bristol based Installation Company for Customer Satisfaction and this is something we are really proud of. Our award-winning customer reviews came from Google, Which? and Trusted Trader. We know that customers are the heart of our business and this award demonstrates our commitment to our customers, the service we provide and the products we supply.
We offer a comprehensive manufacturer-backed 10-year guarantee on the product and 20 years on the installation, covering parts and labour for your door and installation if any issues arise.
Our doors come with a multi-point approved locking system keeping your property safe and secure. This is backed up with our 10-year security pledge which we have for all our windows and doors.
We comply with 'Trustmark' and the 'Glass and Glazing Federation' Trade Associations and adhere to all British Standards as well as holding BBA Certificates.
We are committed to being green and protecting the environment. We use a uPVC which is made from recycled materials which can be recycled again after its lifetime. Our products are A+ rated for energy efficiency as standard and we recycle as many old windows and doors as we can, preventing them from going to landfill. We also donate any fit for purpose old products to non-profit organisations as well as working with local charities.
All our windows, doors and conservatories are made in Britain and to all British Manufacturing Standards.
If you are looking for new windows or doors then contact us today on 0117 327 0127 and one of our Polar Bear experts will be happy to help.